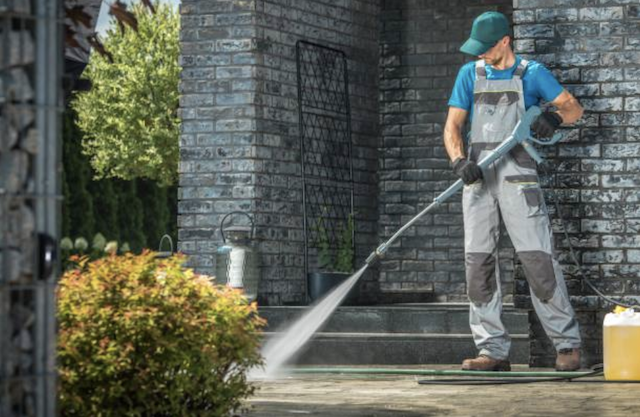 HOME EXTERIOR CLEANING
Troy Pressure Washing offers a wide range of residential pressure washing and cleaning services in Troy. We are happy to provide a FREE ESTIMATE for the cleaning services below in-person or over the phone. For all questions about our residential cleaning services, please call 248-290-6706 anytime during business hours.
Troy RESIDENTIAL CLEANING
PRESSURE WASHING IN Troy
Our residential pressure washing is recommended for homeowners in Troy MI. We can effectively wash brick, siding and wood exteriors with our equipment and industry-approved solutions and detergents. Our experienced cleaning crew is ready to help return your house to its original beauty!
DRIVEWAY CLEANING IN Troy
Troy Pressure Washing provides driveway cleaning in Troy for curb appeal. We are able to remove dirt, oil and grime from dirty driveways. We have the tools and know the techniques to get the job done safely without harming surrounding surfaces, including your yard. You'll love the end results!
SIDEWALK CLEANING IN Troy
We use the same methods from our driveway cleaning service for sidewalk cleaning in Troy. You can't hide a dirty sidewalk. But Troy Pressure Washing can clean it! A clean sidewalk free of dirt and debris improves the look of any home right away. Impress neighbors with a clean sidewalk today!
PATIO CLEANING IN Troy
Troy Pressure Washing is the best choice for patio cleaning in Troy. It's hard to enjoy your home's patio space when it is dirty. Our cleaning crew is able to remove dirt, mold, mildew and contaminants from brick and concrete patios with safe solutions. You can relax on their patio again after an appointment with Troy Pressure Washing.
DECK CLEANING IN Troy
Wood decks are popular but get very dirty quickly and need regular cleaning. Deck cleaning in Troy requires a professional service This is because wood paint is delicate. To correctly clean a deck it requires experience and the right equipment, temperature and solutions. If a wood deck is cleaned incorrectly it can cause permanent damage. Don't let that happen. Call Troy Pressure Washing for deck cleaning that is worry-free and effective!
ROOF CLEANING IN Troy
Your home's roof is a major investment. It's important to maintain it. This includes roof cleaning. For the best and safest results, you should to hire a roof cleaning service in Troy. Our cleaning crew can determine the correct pressure level and if soft washing is needed. We can remove moss, mildew and algae harmful to roof shingles. But most importantly, we eliminate the risks of a homeowner cleaning their own roof.
NEED EXTERIOR CLEANING? CALL NOW!


248-290-6706